San Marcos, CA Motor Homes Services
Holland Motor Homes
Holland Motor Homes provides quality service at reasonable rates. We proudly serve the community of San Marcos, CA. Our customers' satisfaction is our top priority.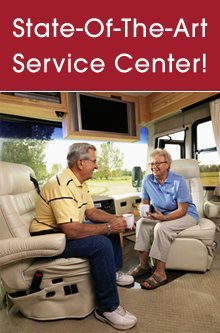 Learn why they prefer us:

Fleetwood Bounder
Fleetwood Discovery
Fleetwood Jamboree
Fleetwood Southwind
Fleetwood Storm
Fleetwood Terra
American Coach Revolution
Leisure Travel Serenity
Leisure Travel Libero
Leisure Travel Unity
Coachmen Freelander
Coachmen Concord
Roadtrek N6 Active
Roadtrek RS Adventurous
Roadtrek SS Agile
Roadtrek SS Ideal
Roadtrek 190 Popular and 210 Popular
Roadtrek 190 Simplicity and 210 Simplicity
170 Versatile, 190 Versatile, and 210 Versatile
We are conveniently located next door to the San Marcos Camping World.
Contact Holland Motor Homes today at 800-961-4464 for more details.